The Cracker Drinks Co. will contribute 1% of its annual net profits to Rainbow Trust Children's Charity who supports families who have a child with a life threatening or terminal illness. Learn more at rainbowtrust.org.uk
Registered Charity No. 1070532
For more information click here to e-mail us
Cracker Drinks Co. Ltd,
Abbey House,
1650 Arlington Business Park,
Theale, Reading, Berkshire,
RG7 4SA, UK

e: talktous@crackerdrinks.com
Tel: +44 (0)1189 298 444
facebook.com/crackerdrinksco
Legal © Cracker Drinks Ltd. 2013 Registered in England & Wales No. 06209979
Lily Lemon
I am a beautiful vibrant yellow and my tangy juice is super good for you. For example, my juice has tons of vitamin C and B, magnesium, potassium and fibre.
Cheeky Cherry
Apart from being so good looking and tasty, eating me is good for you. I provide you with loads of nutrients, minerals and Vitamins, like Vitamin C. So go ahead and drink me up.
Peter Pear
Not only am I yummy and juicy, I also provide loads of different vitamins and minerals. I am also a good source of fibre. I am sure you will agree, I make a perfect sweet and refreshing treat.
Ollie Orange
I am from the Citrus fruit family, like lemons but sweeter. I can provide you with loads of Vitamin C and my vitamin A is good for your skin and eyes. I also contain potassium and calcium..
Vicky Vanilla
I am a pretty flower and my vanilla bean pod is my fruit which tastes so delicious. That's why you'll find me in many special treats like ice cream and this delicious refreshing drink.
Adam Apple
Some people say that "an apple a day keeps the doctor away". That's because I am one of the healthiest fruits you can eat, or drink. I am full of good fibre, calcium, and vitamins C and B.
Ruby Raspberry
I am pretty in pink and taste delicious. I am also very good for you with lots of vitamins A, B, C, and E. I contain minerals like iron, magnesium and potassium..
Billy Blackcurrant
The colour of my glossy skin is a rich dark purple. I am often called one of the world's superfruits which means I come packed with loads of healthy stuff such as Vitamin C, Vitamin A and iron.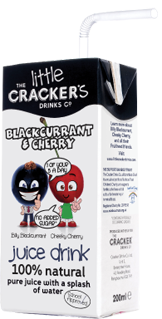 INGREDIENTS
Apple Juice from Concentrate (70%), Water, Cherry Juice from Concentrate (4%), Blackcurrant Juice from Concentrate (1%), Flavouring.
NUTRITIONAL INFORMATION
Typical
values
Per 100ml
Per 250ml serving
Energy
146.8kJ
293.7kJ
34.6 kcal
69.2 kcal
Protein
0.1g
0.1g
Carbohydrate
8.3g
16.6g

of which sugars

7.9g
15.9g
Fat
Trace
Trace

of which saturates

Trace
Trace
Fibre
Trace
0.1g
Sodium
Trace
Trace
1 carton of Little Crackers consists of 1 of your 5 a day (all recipes are at 75% juice with 150ml juice per 200ml serving)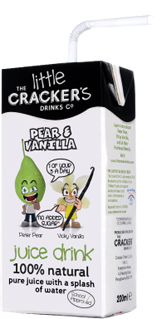 INGREDIENTS
Pear Juice from Concentrates (36.5%), Apple Juice from Concentrate (36.5%), Water, Pear Puree (2%), Citric Acid, Flavouring
NUTRITIONAL INFORMATION
Typical
values
Per 100ml
Per 200ml serving
Energy
146.8kJ
293.7kJ
34.6kcal
69.2kcal
Protein
0.1g
0.1g
Carbohydrate
8.3g
16.6g

of which sugars

7.9g
15.9g
Fat
Trace
Trace

of which saturates

Trace
Trace
Fibre
Trace
0.1g
Sodium
Trace
Trace
1 carton of Little Crackers consists of 1 of your 5 a day (all recipes are at 75% juice with 150ml juice per 200ml serving)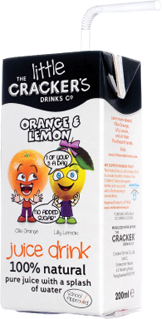 INGREDIENTS
Orange Juice from Concentrate (37%), Grape Juice from Concentrate (36%), Water, Lemon Juice from Concentrate (2%), Natural Flavourings
NUTRITIONAL INFORMATION
Typical
values
Per 100ml
Per 200ml serving
Energy
155kJ
309kJ
36kcal
73kcal
Protein
0.3g
0.6g
Carbohydrate
8.3g
16.7g

of which sugars

8.1g
16.3g
Fat
Trace
Trace

of which saturates

0.0g
Trace
Fibre
0.2g
0.5g
Salt
0.0g
Trace
1 carton of Little Crackers consists of 1 of your 5 a day (all recipes are at 75% juice with 150ml juice per 200ml serving)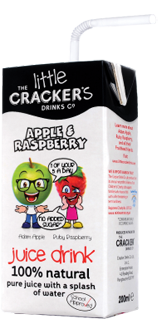 INGREDIENTS
Apple Juice from Concentrates (40%), Grape Juice from Concentrate (31.5%), Water, Raspberry Juice from Concentrate (3.5%), Natural Flavourings
NUTRITIONAL INFORMATION
Typical
values
Per 100ml
Per 200ml serving
Energy
161kJ
321kJ
38kcal
76kcal
Protein
0.1g
0.2g
Carbohydrate
9.2g
18.5g

of which sugars

8.9g
17.7g
Fat
Trace
Trace

of which saturates

0.0g
Trace
Fibre
0.1g
0.1g
Salt
0.0g
Trace
1 carton of Little Crackers consists of 1 of your 5 a day (all recipes are at 75% juice with 150ml juice per 200ml serving)